LICENSEE INFORMATION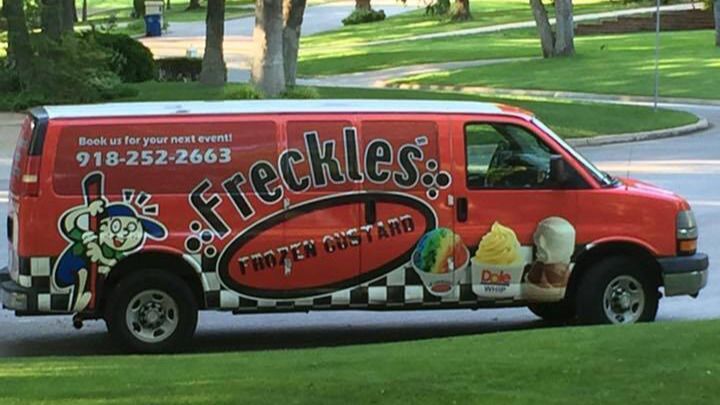 Freckles Frozen Custard now is offering licensing agreements to those who wish to have their own Freckles store. We would like to speak with you and explain the process and services we can offer to you. Below are listed several frequently asked questions.
How much does it cost to open a Freckles Frozen Custard store?
In addition to the $5,000 licensing fee, equipment and fixtures range from $50,000 to $80,000. Signage will cost from $2,000 to $10,000. Remodeling and land are two additional variables that vary from market to market.
How much money can I make?
This is a fair question but there are too many variables to state a specific answer. We can provide you with accurate percentages and scenarios to give you guidance.
How long will it take to begin operation of our store?
First a site must be selected. Once the property has been secured it will take between 60 and 120 days to build out the site. Other factors to consider are store layout, signage and equipment delivery. We will be there to assist you through the entire process!
How will I receive my product?
We will provide you with a list of suppliers that will deliver to you at your location. Should these suppliers not be available in you area, we will help secure other resources to ensure your success.
Can I sell other items in our store besides custard?
We welcome suggestions and ideas to make Freckles more successful. We want to sign off on these ideas to ensure they are implemented in a proper fashion.
Is Freckles open all year around?
We have found in the Oklahoma market that it has been successful enough to stay open 12 months. This may not be possible in some markets. Frozen custard is definitely a seasonal business.
How much time will I have to spend at the store?
In the beginning you will spend an enormous amount of time at your location. Our experience was that after three weeks the load seemed to lighten. Should you decide to hire a manager this process may speed up. We do not want to portray this as an absentee owner type of business.
Can I open a Freckles in a mall?
We are open to new locations and layouts. We currently offer two designs for licensees to observe. Once a license agreement has been executed we will share with you a list of criteria we feel are crucial to your location's success.
How often does Freckles change the menu?
We try to change the menu once a year. This may not be a comprehensive change. We are constantly creating seasonal treats and new items to churn new interest.